About Us
Meet the Owner
The man behind 911 Restoration of Cedar Rapids is Andy Chihak. Andy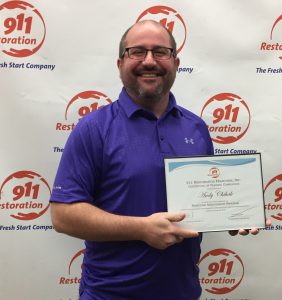 was born and raised in Cedar Rapids. Now, he's raising his own family in our beautiful community. He and his wife have a four-year-old daughter and a Wheaten Terrier named Bernie. 
While Andy has discovered a deep love for construction and renovation, his background is largely in sales. He worked at Sears and Lowes for eight year, then served in outside sales with Verizon Wireless for nearly five years. He has also worked for government accounts and non-profits. His professional background has set the stage for his career as owner of 911 Restoration of Cedar Rapids. Over the years, he's learned a lot about what it takes to truly serve his customers. He knows you can't give your best to your clients if you don't take the time to understand their needs and hear their concerns. And he knows the satisfaction that comes with making someone else's life just a little bit easier.
It's no wonder he chose to join the 911 Restoration team. By running a local restoration business, he is able to guide his neighbors through some of their most challenging moments. Andy and his team understand the anxiety and devastation you feel when disaster strikes. They do everything it takes to make your home or business brand new again.
What to Expect When You Call 911 Restoration of Cedar Rapids
When you call Andy and his crew in a crisis, you can expect the compassionate care and high standard of service 911 Restoration is known for nationwide. 911 Restoration of Cedar Rapids provides 24/7/365 availability and will be there for an emergency in 45 minutes or less. You can reach out to us for water damage restoration, mold remediation, fire and smoke cleanup, and sewage backup cleanup. The restoration experts service both residential and commercial properties.
Andy has worked hard to build a team of reliable and highly skilled technicians. Every member of his crew is IICRC certified and equipped with the know-how to restore your property after any disaster. They don't just stop at basic cleanup service. They cover every need from water extraction to drywall replacement. You won't have to call another contractor to make your property as good as new. 911 Restoration of Cedar Rapids does it all.
Along the way, you can expect clear communication and transparent business practices. Andy leads with integrity and understands how hard it can be to trust your property with a stranger. That's why he trains his team to earn your trust through honesty, high standards, and sincere concern for your well being. Above all, Andy and the crew are hard working and relentless. They don't consider any job done until they know they've done everything imaginable to make your property the refuge it once was. 
Bringing the Fresh Start Philosophy to Cedar Rapids
The people and places of Cedar Rapids are very important to Andy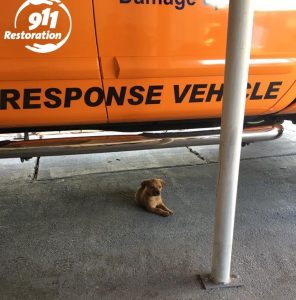 Chihak. There's a reason he's decided to build a life here. He loves the friendly community. He loves being only four hours from all his favorite sports teams. (Talk to him anytime about Hawkeyes football or Cubs baseball.) He enjoys the great local golf courses… though he'd tell you he doesn't get out as much as he'd like. "You can be a good golfer or you can be a good father, but you can't be both," he says.
So when Andy decided to open his own restoration franchise in Cedar Rapids, he chose the company that would help him serve the community he loves in the best way.
911 Restoration is known as the Fresh Start company, built around the philosophy that every disaster is an opportunity for a Fresh Start. For Andy and his team, this teams every job is their chance to give their neighbors a property that's even stronger than before. Andy personally understands how powerful an experience like that can be. He served as co-general contractor in his own house renovation. In addition to hands-on experience, he discovered the deep satisfaction of having found new promise in his own property.
Now, as owner of 911 Restoration of Cedar Rapids, he thoroughly enjoys sharing that feeling with his community. He loves problem solving and providing peace of mind with practical, concrete solutions. Above all, he enjoys contributing to the community that made him who he is today.
In any disaster, you can always turn to 911 Restoration of Cedar Rapids for excellent service and genuine care.