Disaster Restoration
Get the help you need to recover from a flood, sewage backup, or pipe burst in Cedar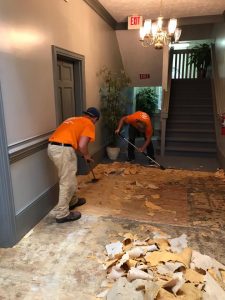 Rapids. Secure a Fresh Start by contacting 911 Restoration of Cedar Rapids 24/7/365. All of our disaster restoration and mold removal crews in Cedar Rapids are IICRC certified. We can reach your property within 45 minutes of an emergency call to:
Perform a water damage and mold inspection
Stop additional water from entering your property
Pack out and store your undamaged belongings
Handle total water extraction
Dry out and dehumidify your home or business
Repair structural damage caused by water
Take care of mold remediation and odor removal
The flood cleanup experts at 911 Restoration of Cedar Rapids are trained to handle commercial and residential water damage. You can contact us if you are facing damage caused by natural or manmade disasters in Marion, Waterloo, and the surrounding areas.
Getting fast help with water damage clean and mold removal can reduce the damage to your property. For this reason, you should reach out to us immediately if you have a pipe burst, ceiling leak, or flooded basement in the Cedar Rapids area.
You can get same-day help handling your water damage restoration and mold remediation needs in Cedar Rapids. Crews arrive in under an hour to start flood cleanup, water extraction, and mold decontamination. All techs are licensed, bonded, and insured to make sure that your property is quickly returned to better-than-new condition. Find out more by contacting us right now.
What Equipment Is Used in Cedar Rapids Flood Cleanup?
Flood cleanup and mold remediation in Cedar Rapids IA must be personalized to meet your needs in Marion, Waterloo, and the surrounding areas. Water damage restoration experts can assess your situation with a water damage and mold inspection. Based on the results of your water damage and mold inspection, crews may need to work with:
Plastic sheeting and negative air pressure machines to isolate damaged areas
Professional-grade pumps for water removal
Infrared scanners to find any hidden spots of moisture
Dehumidifiers and fans to finish the drying process
Air filters to get rid of mold spores
Specialized cleaners to disinfect your property
As a full-service property restoration company, we can handle all of your needs following a pipe burst, winter storm, or mold outbreak. You can even count on us to handle a flooded basement in Waterloo. Crews have years of training and experience in completing flood cleanup and mold decontamination in Cedar Rapids.
Working with a locally owned and operated 911 water restoration and mold remediation company can increase your comfort. All techs at 911 Restoration of Cedar Rapids will put you first if you're dealing with a flooded basement, sewage spill, or ice dam.
Cedar Rapids mold remediation techs can even help you fill out your insurance claim. We have experience working with local insurance companies. Filing your claim properly can increase the odds that your property owner's insurance will cover the damage from a flooded basement, fungal infestation, or tornado. Put yourself in good hands by reaching out to us now to get the help you deserve.
Why Get Professional Mold Removal in Cedar Rapids?
Water damage events – including pipe bursts, snow storms, and sewage restoration –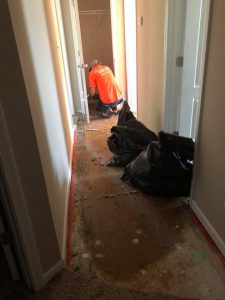 introduce unwanted moisture into your property. This moisture can cause property damage. Moisture also increases the odds that you will experience a mold outbreak. For this reason, it's important that you all the pros complete a mold inspection in the Cedar Rapids area.
Flood cleanup experts can handle fungal overgrowth in your home or business. The mold remediation crews at 911 Restoration of Cedar Rapids can take care of:
Residential mold decontamination
Commercial mold decontamination
Techs even have the training to remove black mold and other forms of toxic mold. Toxic molds damage your property and can cause health problems. You can grow very ill if you breathe in toxic mold spores or physically touch black mold.
911 Restoration of Cedar Rapids has the personal protective gear (PPG) necessary to safely remove black mold. Crews can knock out a mold infestation as they handle flood cleanup and water damage restoration. Resolving all property restoration issues can make sure your property is brought back to perfect condition without delay.
Contact us now if you have a flooded basement, frozen pipes, or a mold infestation. Cedar Rapids water damage restoration and mold removal techs can arrive in under an hour to begin repairs. We won't consider the job done until your property is completely free of mold and fully renovated. Get a Fresh Start by reaching out to us to handle any water damage issues you are facing.
Serving the communities of Bettendorf, Cedar Rapids, Clinton, Coralville, Davenport, Iowa City, Muscatine, North Liberty, Waterloo, and surrounding areas.