Water Damage in Cedar Rapids
Weather Alert: If you are experiencing ice damage, frozen pipes, or severe weather, call us today for emergency assistance! 
911 Restoration of Cedar Rapids, Iowa
You can get a Fresh Start if you experience a property disaster in Cedar Rapids and the surrounding areas. The help you need is only a phone call away at 911 Restoration of Cedar Rapids. IICRC-certified techs can reach your property within 45 minutes of an emergency call, 24/7/365. Call us at (319) 302-3078 and allow us to offer you a free visual inspection. Once techs arrive, they can begin:
Mold removal and decontamination
Fire damage restoration and smoke removal
Crews are licensed, bonded, and insured to help you recover from a sewage backup. You can count on us to take care of commercial and residential property restoration. We're also trained to assist you in emergency situations caused by flooding, fires, or pipe bursts in Cedar Rapids, Marion, and the surrounding areas.
At 911 Restoration of Cedar Rapids, we offer a Fresh Start with our comprehensive selection of property damage restoration services, including but not limited to:
Whether you're a Iowa homeowner or business owner, 911 Restoration of Cedar Rapids is your Fresh Start! We'll communicate with you throughout the entire process, help answer questions related to insurance, and restore your property to its pre-damaged condition. One of our IICRC-certified teams is dispatched within 45 minutes of your call! Contact us today, and one of our friendly representatives will assist you in finding the nearest Iowa location.
Water Damage Restoration
You can turn to water damage restoration experts in Cedar Rapids after a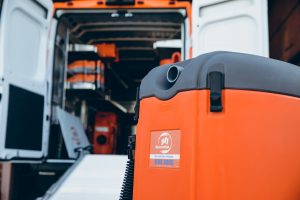 flood, pipe burst, ceiling leak, or winter storm. Water damage crews in Waterloo can help you by:
Quickly extracting water from your property
Drying your property with fans and dehumidifiers
Repairing damage caused by excess water
Disinfecting any areas of your property with flooding
Limit the total damage to your property by working with flood cleanup techs right now. The experts at 911 Restoration of Cedar Rapids offer same-day water damage services. We have the equipment and resources to take on house flooding, carpet water damage, frozen pipes, and more.
Beginning water damage restoration in the Cedar Rapids area quickly can limit the odds that you will face a mold outbreak. Find out more about how we can help by contacting us at any time of the day or night to get the help you need. Call us at Cedar Rapids disaster relief and see how we can help.
Service area map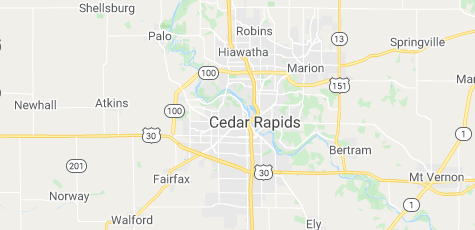 Sanitization Services & Disinfection Solutions
Water damage in Cedar Rapids isn't the only thing on residents' watch list. The spread of the coronavirus pandemic has reached global proportions. As such, it's more important than ever before we do our part to combat this problem. Fortunately, everyone can contribute just by maintaining their personal hygiene.
Property owners can lead the charge by making sure their buildings are also cleaned and sanitized to further protect the people who come in every day. For this reason, 911 Restoration of Cedar Rapids is happily prepared to provide sanitization services. We also offer various disinfection solutions for both residential and commercial properties. All of our IICRC-certified technicians are trained to follow all current CDC and EPA protocols. We're all dealing with this pandemic together. Trust us to work every day to ensure your peace of mind during this troublesome time.
Mold Removal
A mold outbreak in your home or business can cause tremendous damage in Waterloo, Marion, and the surrounding areas. Fortunately, you can get professional assistance with mold removal in Cedar Rapids. The mold remediation experts at 911 Restoration of Cedar Rapids are prepared to:
Perform a free visual mold inspection for property owners only
Look for mold even in hard-to-reach places
Isolate all areas that experienced fungal growth
Eradicate mold spores using air filters
Disinfect mold-infested areas with mold decontamination
Remove odors and renovate your property
Mold removal in Cedar Rapids can quickly bring your property back to the perfect condition that you deserve. Crews at 911 Restoration of Cedar Rapids can handle commercial and residential mold removal for you. Call us at (319) 302-3078.
Wipe out all evidence of a fungal infestation by reaching out to us as soon as you spot signs of mold growth.
Sewage Backup and Cleanup
Sewage backups in Waterloo, Marion, and the surrounding areas can leave you dealing with water damage and dangerous contaminants. It is considered black water. This means it was exposed to human waste and can contain pathogens that will make you ill.
For this reason, it is important you get professional help with sewage cleanup in Cedar Rapids. Allow us to assess your needs if you have a toilet overflow, pipe burst, or flooded bathroom. We also have the safety gear to remove sewage without endangering your health.
The crew at 911 Restoration of Cedar Rapids is prepared to handle a sewage backup. Let our sewage cleanup crews dispose of the sewage, scrub down your property, and disinfect all areas exposed to raw waste so you can move forward with peace of mind.
Fire and Smoke Damage Restoration
You may need fire damage restoration services in Cedar Rapids. Fires can cause significant damage to your home or business. 911 Restoration of Cedar Rapids can help by:
Offering you a free fire damage assessment
Packing out and storing your undamaged belongings
Handling fire cleanup with soda blasting and other advanced techniques
Repairing damage caused by the fire
Taking care of water damage restoration
Finishing smoke, ash, and soot removal
Cedar Rapids fire damage restoration can allow you to recover fully from the damage caused by a fire. In fact, fire damage crews can even help you if you experienced relatively minor damage caused by a malfunctioning furnace. Contact us now to learn more about puffback cleanup in Marion, Cedar Rapids, or the surrounding areas.
Disaster Restoration
Major property disasters can be difficult to handle on your own. On the contrary, you can get help right away if you're dealing with a flooded basement, tornado damage, a fire, or a mold outbreak. 911 Restoration of Cedar Rapids can provide you with:
pack out services
water extraction
roof repairs
boarding up
Allow us to help you handle water damage restoration and fire damage restoration after an emergency. You can also count on us to take care of mold removal in Waterloo, Marion, or the surrounding areas. Crews can eradicate even large mold infestations to bring your property back to better-than-new conditions.
We understand the importance of moving quickly in emergency situations. That's why techs can begin fire and flood cleanup with same-day services. Limit the total damage to your property after a pipe burst, fire, or sewage backup by contacting us at (319) 302-3078. Techs can reach your property in less than an hour.
Commercial Restoration
911 Restoration of Cedar Rapids can quickly repair your commercial property after a flood, fire, pipe burst, or mold infestation. Of course, we understand what it takes to help with commercial water damage restoration, fire restoration, and mold removal in Cedar Rapids.
Crews will work aggressively if you are dealing with:
Flooding in your basement or crawlspace
A fire that damaged your business
Sewage backups in industrial bathrooms
Mold growth throughout your commercial property
We'll consider your schedule as crews take care of flood cleanup, mold removal, and smoke restoration. Techs understand how important it is to get you operational again quickly, so you can get back to servicing your customers.
Above all, put your business in good hands after a pipe burst, sewage backup, fire, or mold outbreak. Allow us to work diligently to bring your business back to better-than-new condition here in the Cedar Rapids area. Crews are standing by to offer you same-day property restoration services.
Serving the communities of Bettendorf, Cedar Rapids, Clinton, Coralville, Davenport, Iowa City, Muscatine, North Liberty, Waterloo, and surrounding areas.