Water Damage Restoration in Muscatine
As a property owner in Muscatine, you're already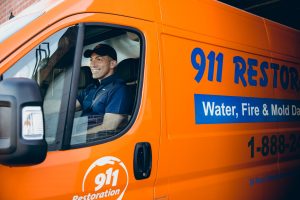 aware it's a role full of responsibility. One of the largest responsibilities is to handle any water damage that occurs. While this occurs in a number of ways, the most common to watch out for is water damage. Water damage can happen because of anything from a pipe burst to a ruptured appliance hose. That's why the IICRC certified technicians at 911 Restoration of Cedar Rapids are standing by 24/7/365 ready to get to work on any mold removal or water damage restoration needs. Whether you live in Muscatine, North Liberty, Lisbon, or another city in the Cedar Rapids area, we guarantee our arrival within 45 minutes, ready to get to work on flood cleanup.
Mold only needs 24 hours to start growing when water damage is present. Delays in water damage restoration  in Muscatine only let the mold spread throughout the property. If you've reached that point, the only option you have is to hire professional mold removal services.
Once you're aware of the need for mold removal or water damage restoration, call 911 Restoration of Cedar Rapids. Our technicians are standing by ready to help you with anything from water damage restoration to flood cleanup. Call today to get the Fresh Start you need to start over.
Understanding Water Damage Restoration
There's a lot more to the process with water damage restoration than drying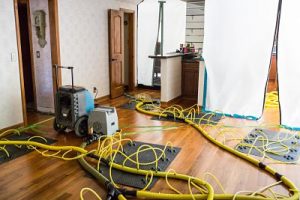 out the property. Water damage causes mold growth as well as structural damage among other concerns. For this reason, it's crucial to make sure you work with a water restoration company that understands every aspect of your water damage restoration.
Our IICRC certified technicians work hard to deliver outstanding results. That's why we tweaked our water damage restoration process to perfection with a combination of ongoing training and years of experience.
The process always starts with a visual water damage inspection. With the inspection, we gather our findings to ensure we understand the extent of the water damage, the status of any existing mold infestation, and what repairs are required to restore the property to good as new. Once the inspection is done, we can turn our attention to the next step, which is our water extraction and drying process.
With this step, the latest water extraction equipment and commercial dryers are used to ensure the property is dry as a bone. As soon as the property is dry, we get to work on any repairs needed, whether it's a tile installation or repairing the source of the water damage.
Once you notice or suspect mold or water damage, call 911 Restoration. We'll arrive within 45 minutes to get to work on your mold removal and water damage restoration. Don't delay in getting the Fresh Start you need to start over in Muscatine.
Flooded Basements and Their Cause
Flooded basements happen more than property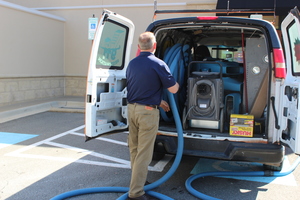 owners are comfortable with. The usual cause is a pipe burst, which starts as a frozen pipe. As such, there are contaminants in the floodwater, which is why our IICRC certified technicians are equipped and ready to deliver flood cleanup and pipe burst repair services to our Muscatine customers.
The flood cleanup process is an enhanced approach to water damage restoration. It was developed to handle large amounts of water along with the contaminants present within the floodwater. Our commitment to the health and safety of our customers is what makes us the flood cleanup company of choice in Muscatine. We begin the flood cleanup process with decontamination. During this step, the goal is to eliminate all contaminants before we begin water extraction. After water extraction, we perform any repairs needed to restore the property to good as new.
Call 911 Restoration of Cedar Rapids as soon as you need emergency restoration services. Get the Fresh Start you need today.
Serving the communities of Bettendorf, Cedar Rapids, Clinton, Coralville, Davenport, Iowa City, Muscatine, North Liberty, Waterloo, and surrounding areas.