Mold Removal
Are you dealing with a mold outbreak in Cedar Rapids? Mold can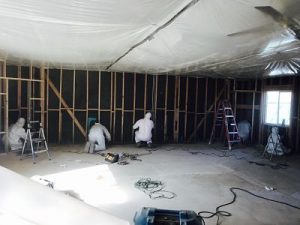 damage your home or business. Some forms of mold can also make you ill. Fortunately, mold removal experts at 911 Restoration of Cedar Rapids can wipe out a fungal infestation. Contact us 24/7/365 to get a Fresh Start from IICRC certified mold remediation specialists. We're ready to:
Race out to your property within 45 minutes of an emergency call
Perform a free visual mold inspection for property owners only
Quarantine areas of your property with fungal growth
Begin prompt mold decontamination and odor removal
Crews at 911 Restoration of Cedar Rapids can also address the underlying causes of your mold infestation. As a full-service property restoration company, we can handle flood cleanup and water damage restoration in Marion.
We understand that many mold outbreaks in Waterloo are caused by excess moisture in your property. That's why crews focus on water extraction and dehumidification after a flood, sewage restoration, or pipe burst. Moving quickly to remove water may decrease the odds that you will need mold remediation in Cedar Rapids.
Get specific information about your needs following a mold outbreak by contacting us anytime of the day or night. Crews are ready to arrive at your property within an hour. Once techs arrive, they can assess your unique needs by performing a mold inspection in Cedar Rapids. Make sure you're ready to completely eradicate mold by reaching out to us now.
What Happens During Mold Remediation in Cedar Rapids?
Are you curious about the mold remediation process in Marion? Mold remediation may vary based upon:
The type of mold in your property
The amount of mold growing in your home or business
The exact causes of your mold outbreak
Cedar Rapids mold cleanup experts can review your situation by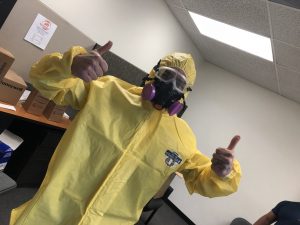 completing a mold inspection. Depending upon the results of your mold inspection, techs may:
Use plastic sheeting to isolate areas experiencing mold growth
Set up air filters to capture mold spores
Remove items infested with mold for cleaning or disposal
Disinfect all surfaces exposed to spreading mold
Wipe out odors associated with mold growth
Get rid of unsightly mold stains on your walls, floors, or ceilings
Cedar Rapids mold removal may also involve repairing the causes of your fungal outbreak. Crews may need to 911 water restoration and dehumidify your home or business. Additionally, techs may need to make repairs to leaking pipes to stop additional water from entering your property.
Bringing your property back to perfect condition is our primary concern at 911 Restoration of Cedar Rapids. Mold cleanup specialists work aggressively to eradicate all signs of a fungal outbreak. Techs will bring top-of-the-line mold decontamination equipment to your property when they arrive.
You can get fast, dedicated service by working with a locally owned and operated mold removal company. Allow us to race out to your property in Cedar Rapids, Waterloo, Marion, and surrounding areas within 45 minutes to offer you the services you deserve.
What Does Mold Cleanup in Cedar Rapids Cost?
Budgeting for mold cleanup in Marion can be tricky for property owners. There is no set price for mold removal, since your exact services will vary based upon your unique situation. Additionally, your property owner's insurance may cover many mold remediation services.
You may be able to file a claim for a mold outbreak if you move quickly to address the infestation. Insurance companies are more likely to deny your claim if you allow mold to spread for a lengthy period of time following the initial growth.
Fortunately, you can get same day help with mold decontamination in Waterloo by contacting our IICRC-certified 911 Restoration experts of Cedar Rapids. Crews move quickly to limit the damage to your property and to increase the odds that repair costs will be covered by your insurance.
We can also provide you with an estimate for the costs of mold remediation. Crews will carry out a mold inspection first, to determine what type of mold cleanup services you will need. Once the inspection is completed, they can answer your questions about repair costs.
Here at 911 Restoration of Cedar Rapids, crews put you first. We'll work to keep the costs for mold removal and flood cleanup as low as possible. Techs can also help you file a claim with your insurance company. Finally, techs can pack out and store your undamaged possessions, protecting them during mold decontamination in Cedar Rapids. Limiting the damage to your possessions can save you money during mold removal in Marion.