Sewage Cleanup
Are you dealing with a sewage backup in Cedar Rapids? You can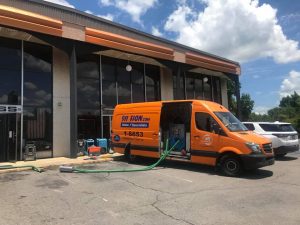 begin sewage cleanup with same-day services from 911 Restoration of Cedar Rapids. Allow our IICRC-certified techs to provide you with a Fresh Start now. Crews can reach your property within 45 minutes of an emergency call, 24/7/365.
Here at 911 Restoration of Cedar Rapids, we understand how important it is to handle sewage water cleanup as quickly as possible. Raw sewage can damage your property and endanger your health. That's why crews race out to your property in less than an hour to:
Stop additional sewage from entering your property
Perform a sewage water damage inspection
Begin prompt removal of sewage water
Dispose of raw sewage removed from your property
Disinfect all areas exposed to raw sewage
Repair water damage caused by the sewage water backup
Remove odors and renovate your property
All crews are licensed, bonded, and insured to repair sewage water damage in Cedar Rapids. As a professional water cleanup company, we have the equipment and the resources to handle both commercial flood cleanup and residential sewage backups.
Toilet water damage specialists will focus on putting your needs first. Crews work aggressively to get rid of sewage water and to decontaminate your property. We can even pack out and store your undamaged belongings to protect them from sewage water damage. Focus on getting back your peace of mind by contacting us now to handle a sewage backup in Marion, Waterloo, or the surrounding areas.
How Do Techs Perform Sewage Cleanup in Cedar Rapids?
Sewage cleanup in Cedar Rapids can return your property to better-than-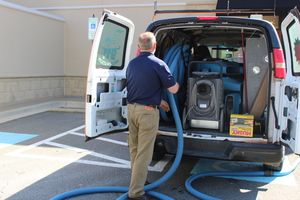 new condition after a sewage backup. Crews can review your specific needs as they perform as sewage water damage inspection. Based on the results of this inspection, techs may:
Bring in pumps to remove sewage water
Use infrared scanners to locate concealed moisture
Check for signs of mold growth with a mold inspection
Scrub down all areas exposed to sewage
Repair structural damage from sewage water
Remove sewage odors and blemishes caused by sewage
Sewage restoration can bring your property back to the perfect condition that you deserve following a sewage water backup. Getting help quickly is highly advised after a sewage backup. Raw sewage left behind by a sewage water backup can:
Damage your floors, walls, and ceilings
Sink into your possessions and furnishings
Leave foul odors behind in your property
Endanger your health
Raw sewage is considered "black" water in Marion. This means that it can contain dangerous bacteria and pathogens that can cause illness. Sewage water cleanup in Cedar Rapids should only be performed by technicians who have the appropriate safety gear.
Trying to handle toilet water damage without personal protective gear (PPG) can lead to serious illnesses. Allow a trained water cleanup company to take care of sewage cleanup for you. Protect your health and get back your peace of mind by allowing us to renovate and restore your property.
Do You Need Mold Removal after a Sewage Backup in Cedar Rapids?
As we mentioned, sewage water contains numerous pathogens and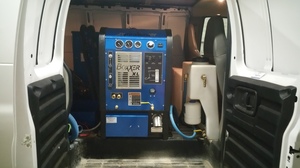 organic matter. These contaminants can encourage the growth of mold on your property. For this reason, sewage cleanup specialists often perform a 911 mold restoration inspection.
Crews at 911 Restoration of Cedar Rapids can handle mold removal if signs of fungal growth are spotted on your property. Allow us to handle sewage water damage and a mold outbreak for you. Crews can:
Quarantine areas of your property with mold growth
Remove mold spores using professional-grade air filters
Perform thorough mold decontamination
Remove mold odors and repair fungal damage
Note that beginning sewage water cleanup quickly can reduce the odds that you will face a mold outbreak. Getting fast help also increases the odds that your property owner's insurance will cover the costs of sewage cleanup.
You can get fast help by working with a locally owned and operated water cleanup company. 911 Restoration of Cedar Rapids understands that sewage backups can occur at any time of the day or night. That's why sewage restoration techs stay on call around the clock.
Sewage water cleanup specialists at 911 Restoration of Cedar Rapids are highly trained and backed by the resources necessary to restore and renovate your property. Let us put our experience with sewage restoration to work for you. Erase all signs that you experienced a sewage water backup in Marion, Waterloo, or the Cedar Rapids area by contacting us today.