Water Damage Restoration in Cedar Rapids
As a property owner in Cedar Rapids, the idea of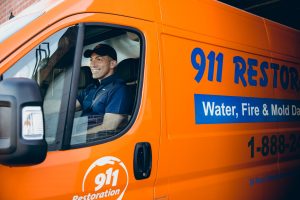 being responsible for any property damage isn't a new one. Of the many types of damage, water damage is the one that requires the most attention. This is because anything from a pipe burst to a leak in the ceiling can result in the need for professional water damage restoration.
That's why the IICRC certified technicians at 911 Restoration of Cedar Rapids are standing by 24/7/365 ready to get started on any mold removal or water damage  needs. Whether you live in Cedar Rapids, La Porte City, Lisbon, or another city in the Cedar Rapids area, we promise to show up within 45 minutes, ready to get started on flood cleanup.
It only takes 24 hours for water damage to create a mold infestation. The longer the delay in water damage restoration the further the mold spreads throughout the property. As soon as you're aware of the need for mold remediation or water damage restoration, call 911 Restoration of Cedar Rapids.
Our technicians are standing by ready to assist you with anything from water damage restoration to flood cleanup. Call today to get the Fresh Start you need to start over.
The Best Water Damage Restoration in Cedar Rapids
Exceptional water damage restoration is a lot more than just drying out the affected area. It takes attention to detail to notice the warning signs of mold along with signs of structural damage. That's why it's so important to work with a water restoration company that knows what it takes to deliver a successful restoration to property owners in Cedar Rapids.

The key to successful flood cleanup lies in choosing a water damage cleanup company that delivers a comprehensive service designed to address every need and concern from start to finish. Accomplishing this task requires the use of superior techniques and state-of-the-art equipment.
Our process always starts with a visual water damage inspection. During the inspection, we gather our findings to ensure we understand the extent of the water damage, the status of any existing mold infestation, and what repairs are required to restore the property to good as new. Once the inspection is done, we can proceed to our water extraction and drying process.
With this step, we use the latest water extraction equipment and commercial dryers to dry out the property. When the property is dry, we get started on the repairs needed, whether it's sheetrock installation or simply repairing the source of the water damage.
If you notice or suspect mold or water damage, call 911 Restoration. We'll arrive within 45 minutes to begin working on your mold restoration and water damage restoration. Don't delay in getting the Fresh Start you need to begin anew in Cedar Rapids.
Ice Dams Lead to Flooded Basements and More
The thaw/freeze cycle during the winter months can lead to ice dams on the roof. This naturally compromises the efficiency of the property, which can lead to further complications. Some of these include a pipe burst as well as other causes of flooded basements. That's why it's important to work with a company that offers a proven flood cleanup process.
Our process is a modified approach to water damage

restoration. It was created to handle excess amounts of water in addition to the contaminants present within floodwater. We begin the flood cleanup process with mold decontamination. With this step, the focus is on neutralizing the mold and bacteria before water extraction. Once completed, we can start removing the excess water and focus on the needed repairs to restore the property to good as new. Call 911 Restoration of Cedar Rapids as soon as you need emergency restoration services. Get the Fresh Start you need today.
Serving the communities of Bettendorf, Cedar Rapids, Clinton, Coralville, Davenport, Iowa City, Muscatine, North Liberty, Waterloo, and surrounding areas.