Water Damage Restoration in North Liberty
Being a property owner in North Liberty means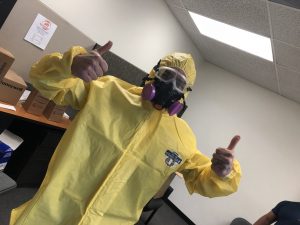 taking on all of the responsibilities the role brings. One of the most important responsibilities is handling any property damage that develops. While this can be many things, the one to watch for is water damage. Water damage is a common problem because anything from a pipe burst to a ceiling leak can result in a serious problem for property owners. That's why the IICRC certified technicians at 911 Restoration of Cedar Rapids are standing by 24/7/365 ready to get to work on any mold removal or water damage restoration needs.
Whether you live in North Liberty, Preston, Waterloo, or another city in the Cedar Rapids area, we promise to arrive within 45 minutes, ready to get started on your flood cleanup. Water damage can give way to a mold infestation after as little as 24 hours. The mold only spreads the more water restoration is delayed. Once the mold spreads, it's important to promptly hire professional mold removal services. Once you're aware of the need for mold removal or water damage restoration, call 911 Restoration of Cedar Rapids. Our technicians are standing by ready to help you with anything from water damage repair to flood cleanup. Call today to get the Fresh Start you need to start over.
Checking for Water in the Crawl Space
In a lot of cases, water damage is obvious. However, only a proper visual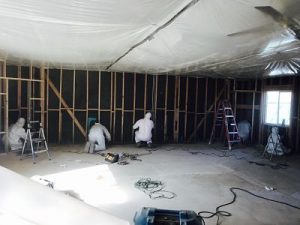 water damage inspection can find water hiding in unusual spaces such as the crawl space. For this reason, it's important to choose a company that provides comprehensive services from start to finish during the emergency restoration.
Our IICRC certified technicians work hard to create outstanding results. That's why we tweaked our water damage restoration process to perfection utilizing a combination of ongoing training and years of experience.
The process starts with our visual water damage inspection. With the inspection, we gather our findings to ensure we understand the extent of the water damage, the status of any existing mold infestation, and what repairs are required to restore the property to good as new. Once the inspection is finished, we can start work on the next step, which is our water extraction and drying process.
During this step, the latest water extraction equipment and commercial dryers are used to ensure the property is completely dried out. Once the property is dried out, we get started on any repairs needed, whether it's a sheetrock replacement or repairing the source of the water damage.
Once you notice or suspect mold or water damage, call 911 Restoration. We'll arrive within 45 minutes to get to work on your mold removal and water damage restoration. Don't delay in getting the Fresh Start you need to begin anew in North Liberty.
Understanding Home Flood Cleanup
Home flood cleanup is a complex and necessary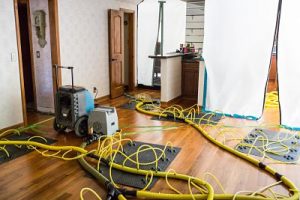 process when problems like a frozen pipe become a burst pipe. This usually shows up as a flooded basement. This is also an event full of contaminants such as dirt or raw waste. For this reason, our IICRC-certified technicians are equipped and prepared to handle flood cleanup and pipe burst repair to our North Liberty customers.

The flood cleanup process is a modified approach to water damage restoration. It was developed to address excess amounts of water along with any contaminants present within the floodwater. Our commitment to customer health and safety is why we're the go-to company for emergency flood cleanup.
We begin the process with decontamination. This step is needed to neutralize the contaminants before we start the water extraction process. Before considering the job done, we'll take the time to perform any needed repairs. Call 911 Restoration of Cedar Rapids as soon as you need emergency restoration services. Get the Fresh Start you need today.
Serving the communities of Bettendorf, Cedar Rapids, Clinton, Coralville, Davenport, Iowa City, Muscatine, North Liberty, Waterloo, and surrounding areas.